Egypt was a little bit out of fashion for European divers as they wanted to go more far to more exotic countries. The political trouble and the Russian mass tourism made it not better. As many other Europeans i made my first fin kicks in the Red Sea around Hurghada. This was back in 1995. I made several vacations in Egypt in the 90s. 20 years later, i came back to the Red Sea and it ist still a diving paradise. While many regions like the Great Barrier Reef or the Maldives  have a  big problem with coral bleaching, the Reefs of the Red Sea, still look healthy.  When it comes to underwatertopography and visibility it is among the worlds best. Many fishes, like the Arabian Angelfish, are endemic. The colors of the corals are special and together with the dark intense blue in the background,  it looks like a 4K video. And anything can happen here, whale sharks, tiger sharks, Dugongs, Mantas, schooling hammerheads. With a little bit of luck you can find almost anything in this big aquarium.
-Ras Mohammed Shark and Yolanda Reef. A soft coral paradise and the most famous wall dive in the world. The wall drop down to 2000 m. That combined with the normal 50 m visibility or more is so impressive that you should be free from giddiness. The fish schooling here is massive, batfishes, jacks and snappers standing in front of the wall. Sharks are very rare nowadays, but everything is possible here.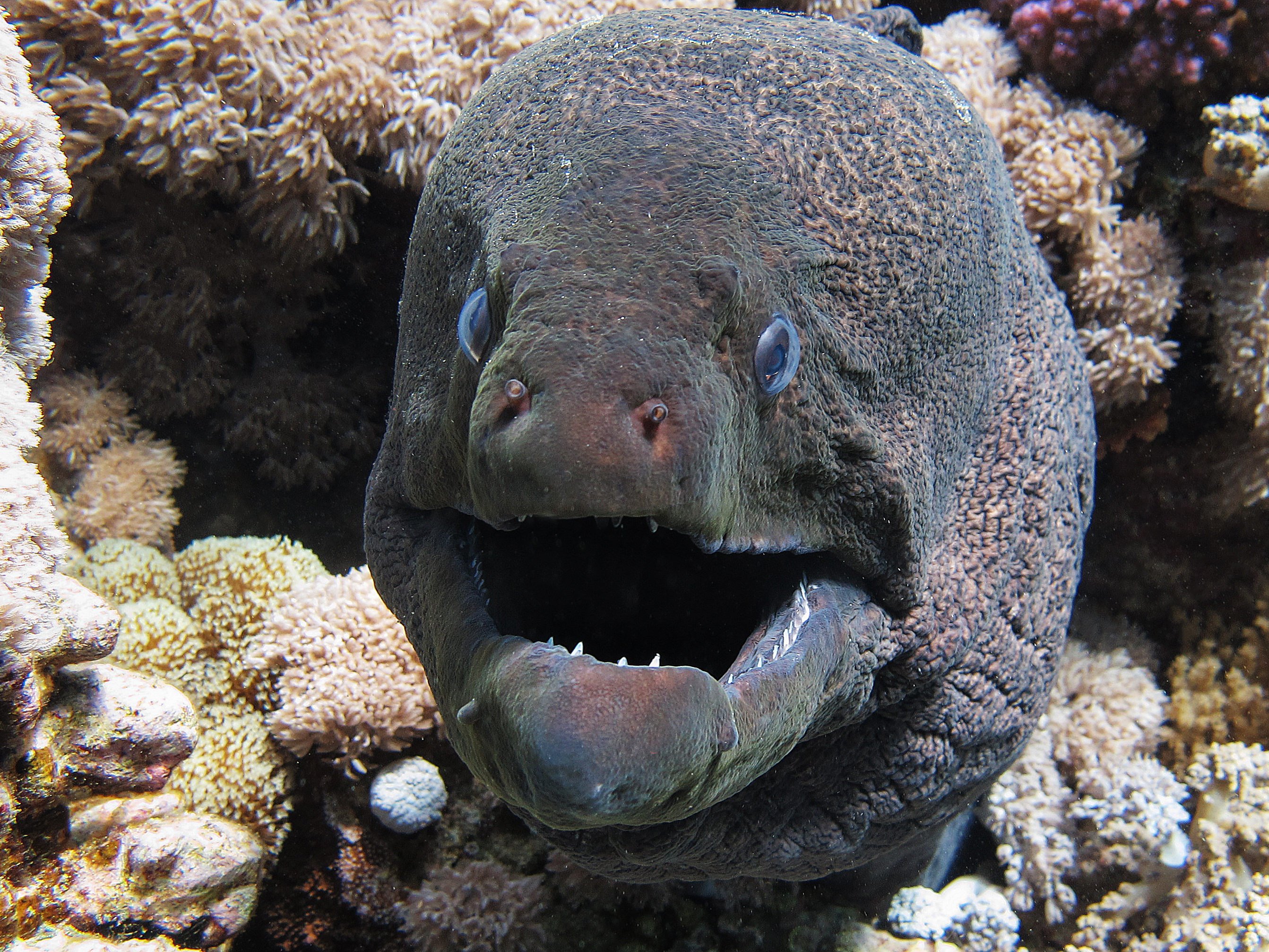 Huge moray eels, bigger then anywhere else are one of the Red Sea signatures.
–Um Hal Hal, Safaga. This little reef can be only reached in very good conditions. It is far outside and the waves here are normally very high. Two litte underwater seamounts built on a huge deep sea pinnacle. The corals here look untouched.  Spectacular topography. Watch out for huge Napoleons size over 2m. On the reef edge sharks are on patrol.
–Elphinstone Reef. Close to Marsa Alam. Elphinstone its a must dive site in the area. It is famous for the resident white tip oceanic sharks and also other sharks sightings. Perfect for drift diving. Dolphins like to visit the reef, but any other pelagic can swim by with a little bit of luck. The resident dive centers demand at least 50 logged dives and a advanced certificate to bring you here.
–Thistlegorm. A world famous wreck dive, if not the worlds most famous. A british freighter from World War II with tanks and jeeps ammunition and other stuff. Better use NITROX as the wreck is really deep on 30m.
–Brother Islands. A scuba diver heaven. Far away from the mainland, can only be breached by LOB. Wall diving at his best. Grey reef sharks, hammerheads and even treasure sharks can be seen.
–Daedalus reef. The "hammerhead" place in the Red Sea. Good to combine with a brothers island LOB. Big schools of sweetlips and bumphead parrotfishs can be found in the shallower parts.
-Jackson Reef, Strait of Tiran. Probably the best dive site in the Strait of Tiran. The Strait of Titan offers many possibilities, but Jackson is my favorite. Schooling barracuda, huge Morays and Napoleons, many turtles, and even a possibility to see hammerheads.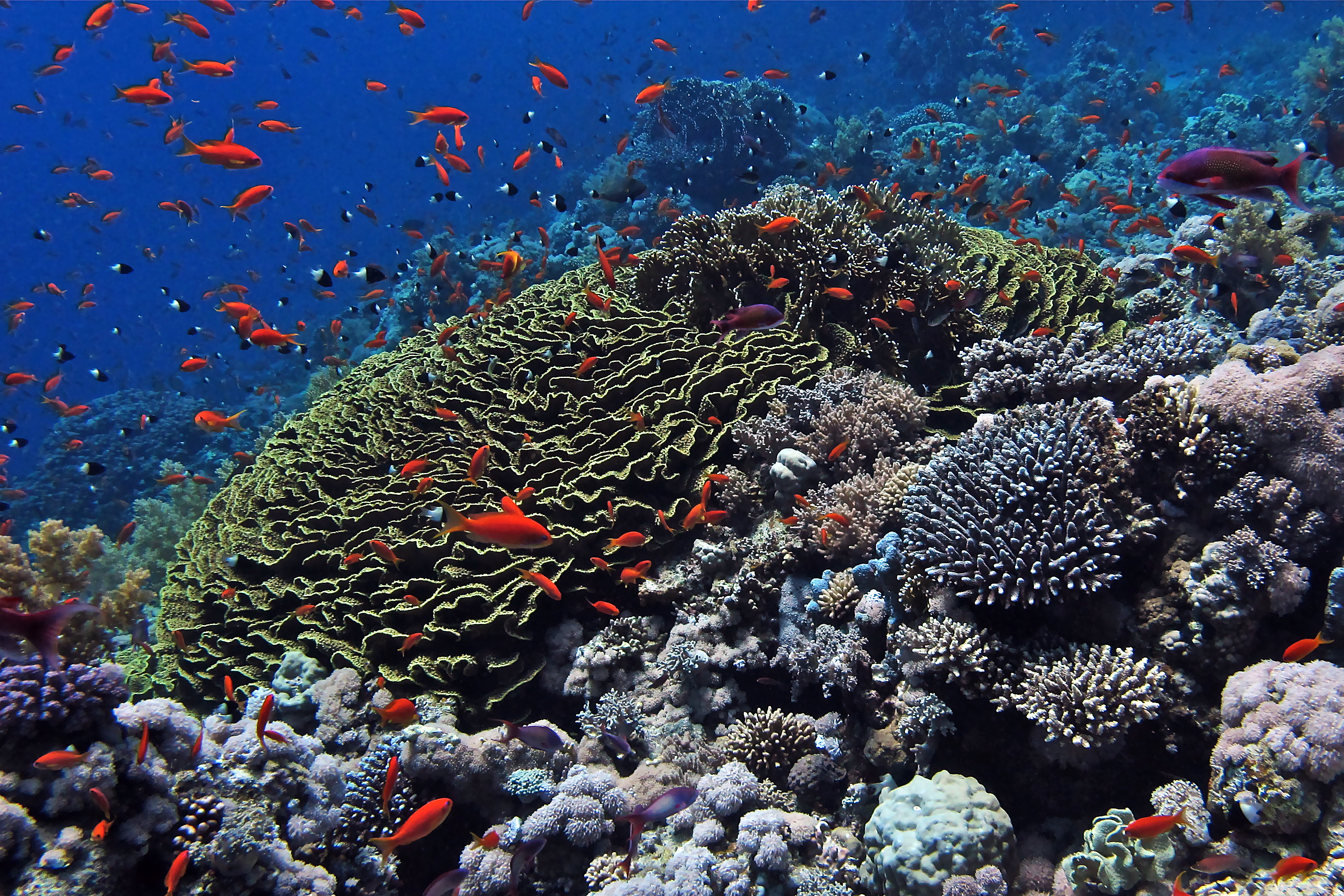 Fantastic coral gardens, a clear blue with a chrystal clear visibility and millions of red anthias like here in Jackson Reef. A divers dream!
-Giftun Island, Hurghada. Probably not the same anymore like in the 80s and 90s. Specially the Big Giftun Wall, was diving at his best. Huge schools of snappers with big gorgonian seafans, thrilling drift dives are possible along these wall. Sadly influenced by mass snorkel tourism, but i wanted to mention on of my all time favorite dive sites.
-Poseidon Reef, El Gouna. A dive in Poseidon reef reminds me a little bit like an underwater dream. The marine life is not so spectacular, but the reef itself is so beautiful, it deserves to be mentioned. It is one of he most relaxing and most beautiful dives you could do.
-Abu Dabbab, not really one of the best dive sites in Egypt. But famous for diving with dugongs. As the possibility here is so high to see one of this gracefully animals, Abu Dabbab, has to be mentioned. At least you will see a lot of dugongs on the surface with mask and snorkel.